Welcome to the Moolah Wireless Tablet & Home Internet Signup under the ACP. The Affordable Connectivity Program (ACP) is an FCC Federal Communications Commission benefit program that helps ensure that households can afford the broadband they need for work, school, healthcare and more. If you or someone in your household is a recipient of National School Lunch Program (NSLP), Supplemental Security Income, Medicaid, Food Stamps/Supplemental Nutrition Assistance Program (SNAP), Medicare, Veterans Pension or Survivors Pension, Federal Public Housing Assistance, Section 8, Pell Grant, or if your family income is under the Federal Poverty Guidelines, you are eligible for ACP discounted internet or a Free Tablet.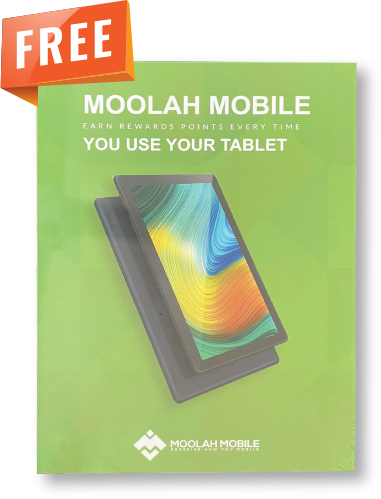 Fill out the required section of your application using your legal name and address used to sign up for Government Programs.
Once submitted, you will be redirected to the Federal Government website to complete all required steps and submit the requested documents.
Once successfully completed, you will receive a Subscriber ID. Write this down, you will need to access it later.
Check your email for your decision status, (i.e.accepted/denied).
Once accepted, you will be sent instructions on selecting your method of delivery for your tablet, (i.e. pick location or mailed delivery).
You are only permitted to receive a FREE Tablet if you have NEVER received a tablet or device from another ACP provider before. If you are enrolled with another ACP provider for Home Internet or Tablet Data Service, there is a chance that you will be unenrolled with them when you enroll with us.

Tablets are going fast! 
Submit your application today.
Due to high demand, the FCC is experiencing delays in approving applications.
Please allow up to 10  days to be approved and up to 45 Days to receive your tablet by mail.